TOLETVM encapsulates a company culture which opts for reinvesting company profits to improve team conditions, modernise its facilities and offer the market an excellent product.
Since 1940, Morlin S.A. has been a family run business which carries out its farming activity in the Sierra de Nambroca, one of the first spurs of the Montes de Toledomountain range, located near the Imperial City of Toledo. The olive groves occupy around 400 hectares (988 acres), comprising the Cornicabravariety, under protected designation of origin (PDO) Montes de Toledo, as well as Picualand Arbequinavarieties. The oldest olive trees in the grove are over 500 years old.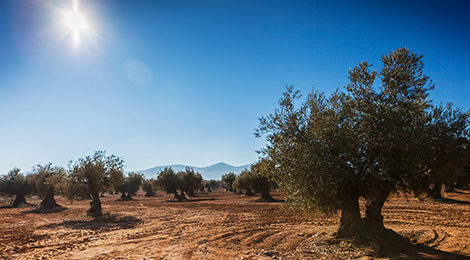 We recollect the olives at the optimum ripening point to obtain the best oils which are immediately taken to the olive press where they are ground using the cold-press oil extraction method. The resulting oil is then placed in stainless steel tanks to await packaging.
We can, therefore, guarantee the highest quality of our Extra Virgin Olive Oils, which are mainly addressed at the GOURMET cooking channel under the brands "TOLETVM", "Sierra de Nambroca", and "Oropel". We offer a wide array of packaging options including PET, cans or glass bottles of varied capacities, sizes and formats, as well as miniature versions and gift packs which enable us to satisfy our clients' demands at all times.